Transform your learning events
into behaviour change catalysts.
Every employee learning program is an opportunity to build lasting, impactful change for your participants. 
Add a cost effective mechanism for increasing the number of participants who apply their learnings back at work. Add impact to every program
You're being tasked with providing new learning content. What about the application of that content and the impact it has?

Turn 1-offs into long term change
We know that change doesn't happen in a single workshop. The Habit Builder can help you turn 1-day sessions into 30-day behavior change engagements… without exceeding budget.

Measure behavior change
Level 3 of the Kirkpatrick model for measuring learning impact is behavior change. Measure more than just knowledge retention.

Identify trends and patterns
What happens after the session can be a bit of an unknown. Real time reporting provides visuals and metrics into who's applying what, and to what effect.
Behavior Science to embed your learning.
Your participants are inspired and committed to change. Give them the tools to make that change happen once they leave the session. 
Capture commitments to behavior change at the end of each session
Generate a key takeaways & intended application report within minutes of finishing your session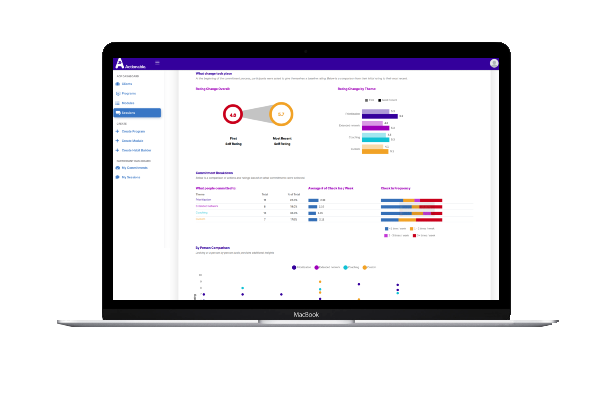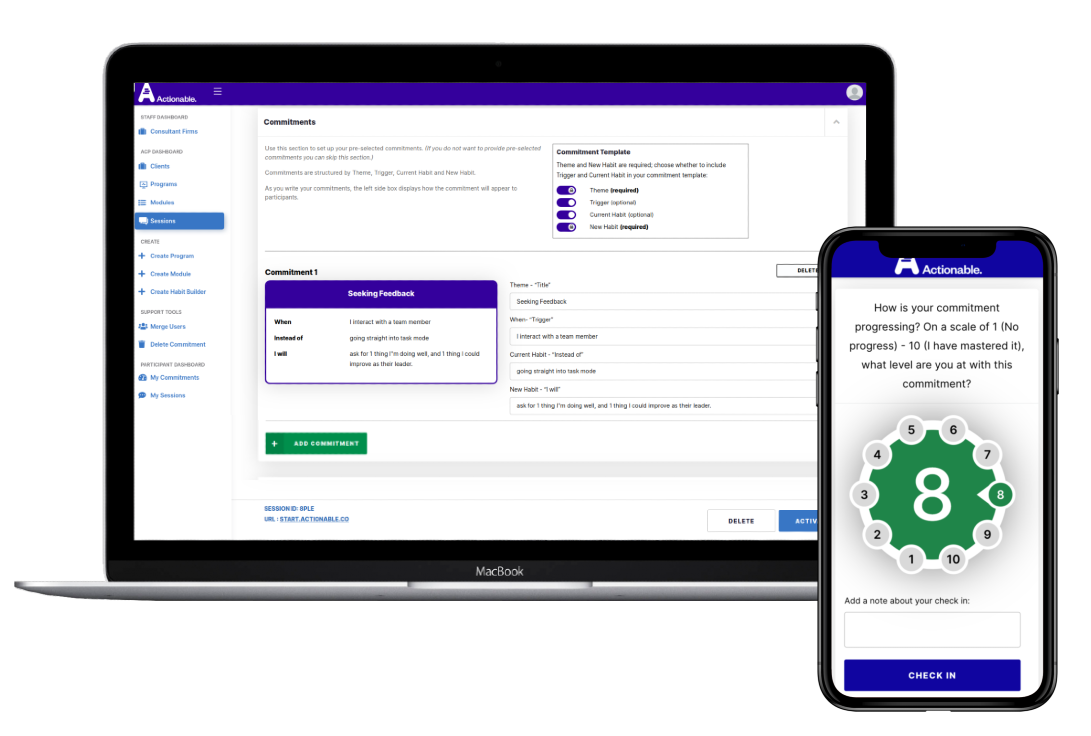 A focus on application.
Habit change can be hard. Make it easier on your participants by equipping them with the power of the Habit Builder. 
The nudge technology works on a schedule designed by each participant
1-click progress tracking + optional journaling
Coach, Manager and "Accountability Buddy" commenting
"Peer Visibility" drives organizational accountability
5-45 day engagement to meet your program cadence
Analytics & Insight.
Professional, polished reports showcasing your impact, regardless of program size.
Individual reports and aggregate.
1-click PDF reports, ready to share with internal stakeholder
Surface themes, outliers, success stories and more
Bring data and insight to your program sponsors that they literally can't get anywhere else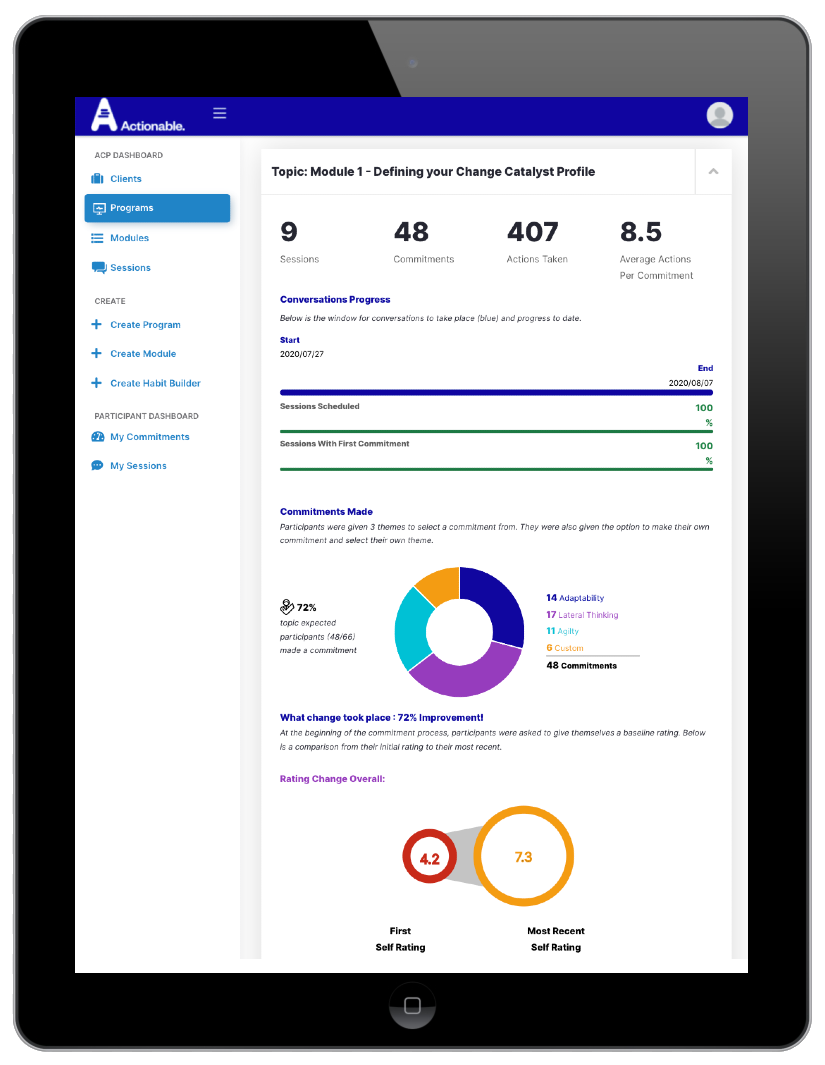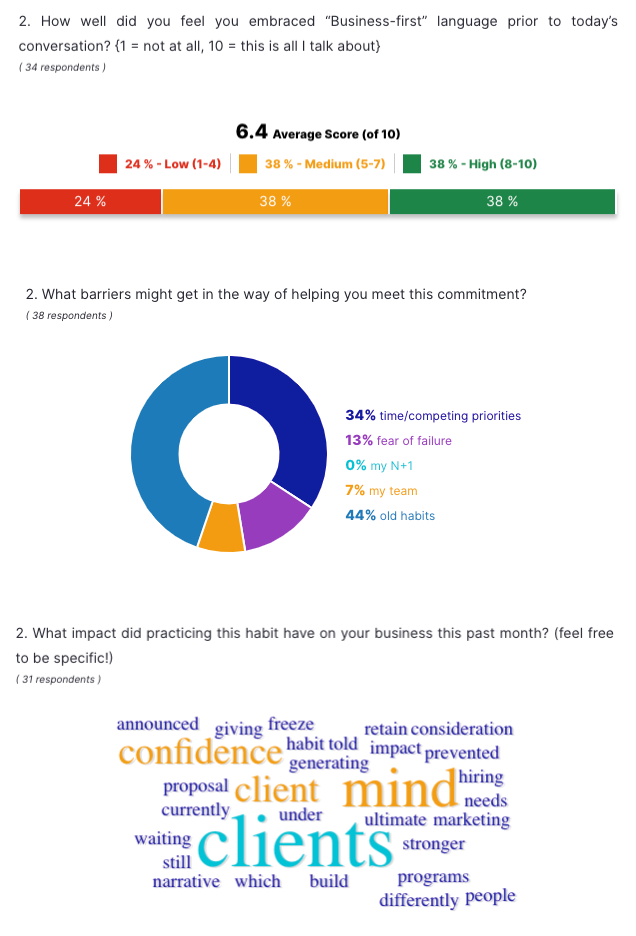 Integrated Pulse Surveying
Want to revisit critical questions from your latest engagement survey? What about session feedback and knowledge retention? Build it into the Habit Builder workflow to streamline your participant experience and add a layer of insight richness to your reporting.
Text, scale and multiple choice question functionality.
1-click reporting on aggregated results.
Data and insight at your fingertips to integrate into your current client-communications flow.
Program management across multiple cohorts and multiple sessions.
You're busy; managing multiple initiatives and various internal stakeholders. You don't have time for the minutiae. Scan engagement and impact across multiple sessions and multiple departments, all from one centralized dashboard.
Real-time dashboards provide insight into adoption, engagement and impact
Robust enough to support multi-national change initiatives
Access for you, your team and relevant internal stakeholders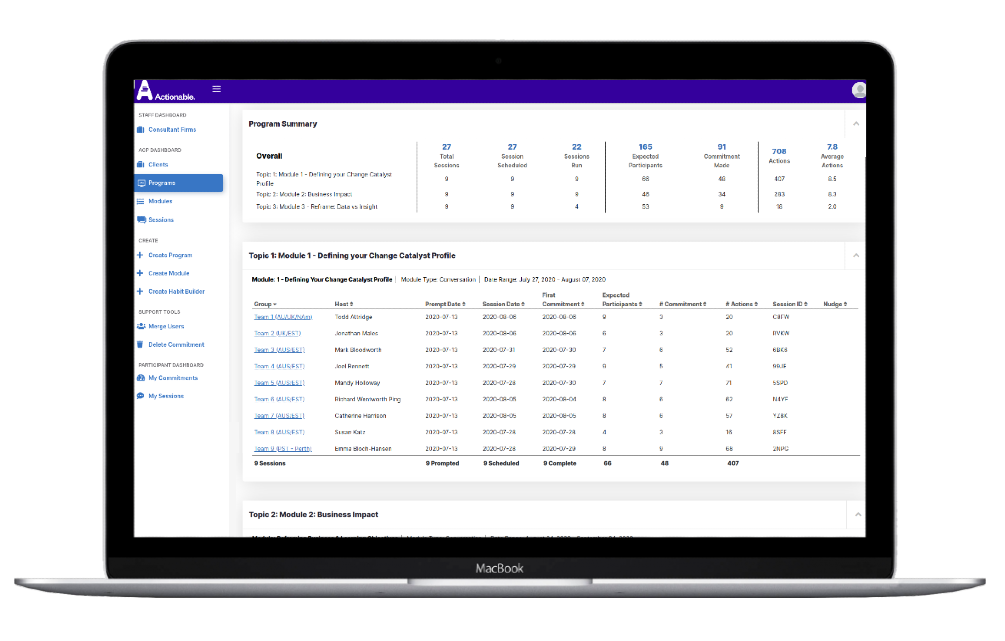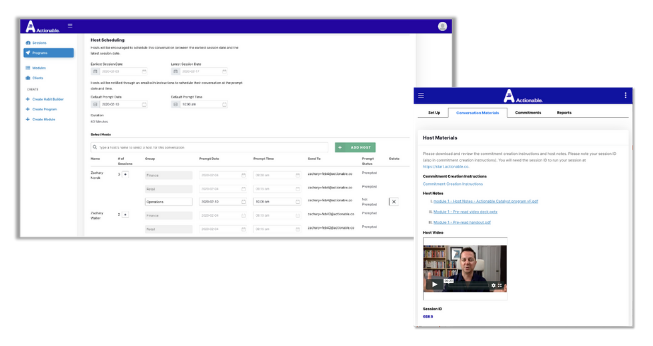 Reinforce the content (and scale the impact) of your live sessions with leader-led Conversations.
Most clients want "sustainment". But what do they really mean by that? Leverage leader-led "Actionable Conversations" to ensure that the insights from your sessions are applied, not just remembered.
Helps groups of participants quickly work through the "what, so what, now what" of your key points.
Upload, then automate participant and leader materials, so everyone has what they need, when they need it.
Link new behaviours to business impact through in-platform pulse surveying and activity analysis.
User Experience
Multi-language
SMS and email integration
Web application means no downloads or complex IT considerations
Single Sign On (SSO) to simplify setup
Analytics & reporting
GDPR compliant
"Forever save" means all your data remains intact between program windows
Data export available on all programs
Branding & Content Alignment
Private labelling available
All content customizable to your internal language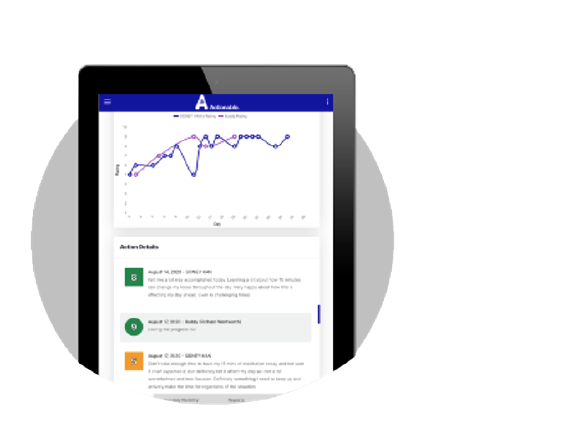 Is Habit Builder right for you?
Some training is there to "check the box" or "provide an experience" for team members. Other programs exist to develop the skills and knowledge to advance organizational priorities. If your programs fall into the latter group, we're here to help you realize that impact.